Ready to make money with your handwriting analysis skills?
Join our Authorized Training Team and get access to over 20 years of effective marketing strategies used by the worlds' most successful handwriting experts.


Turn your interest in handwriting analysis into your own profitable business.




Dear Handwriting Analyst,
If you have ever dreamed of having the freedom and rewards of working for yourself? You can be the local authority on handwriting analysis in your home town. Now, is the right time to consider all the good reasons to open your own handwriting analysis business. This new level 401 is designed for the graduate or handwriting expert about to graduate and start your own business as a speaker, consultant, or analyst. However, this course is now only available to enrolled Authorized Mentors.
The rest of this page has been deleted as our proprietary marketing strategies for handwriting experts and forensic document examiners are often copied and stolen by competitors in both the USA and India. Please contact your local Authorized Trainer to learn more about becoming a professional.
"Thanks for a great course! I am enjoying my title of certified handwriting analyst!

The whole new world has opened up for me.

There is so much opportunity in this field"

--Mona Kulkarni (Bombay, India)
" I not only got my Valentines article accepted, I HAVE MY OWN WEEKLY COLUMN! It was so great, I just sat down and the editor told me he had been looking for something like this for awhile; and I just dropped it into his lap! Thanks so much for your course and the info on how to get published and make money at this. By the way, I'll get $50 for each article! I won't get rich, but it's a great start considering I just got my certificate last week! Thanks again for everything! My life has truly changed for the better! Keeping my t-bars high!
-- Tracy Wilson
"The marketing course has created lots of enthusiasm in me. It really inspired me because it clearly illustrates all the options available in this field and I am so excited about trying them all!" -- Jackie Ahmadzadeh, Odessa, TX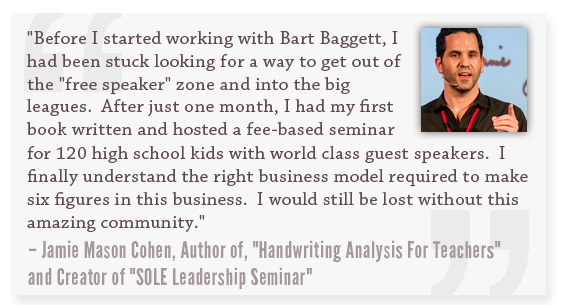 ---




NOTE: For information about using our Secure On-line Ordering System, shipping,
international orders, and alternative ordering methods, please read additional order information.

Questions? Call ourInternational Headquarters:
1-800-398-2278


| More Comments and Testimonials |

Handwriting University is the World Leader in Handwriting Analysis Training & Certification

Handwriting University International Headquarters
15233 Ventura Blvd Suite Floor 5
Los Angeles, CA 91403
Office Hours M-F 9am-6pm

Tech Support Hours M-F 9am-5pm West Coast Time
+1-310-684-3489 Extension 3

Questions about Enrollment, Products, or Courses
+1-310-684-3489 Extension 2

---