RSVP early for the Bart Baggett's Only 2009 Handwriting Analysis Mumbai Live Event... for veterans and beginners.



You are watching flash video
Broadbandformat, recorded in Mumbai, India. Student Review.

Bart Baggett, President of Handwriting University International and will be the featured speaker.




"Join us for Bart Baggett's USA
Handwriting Analysis System
live in Mumbai, India.

Dear Friend,

This is Bart Baggett. I'm the president of Handwriting University.com and the author of 5 books on the topics of handwriting analysis, wealth, and personal growth. I'd like to personally expand your knowledge of the science of handwriting analysis using new "break through" just developed in America.

Dr. Parag Khatri has invited me to be the key speaker at the upcoming two days event "Bart Baggett's Handwriting Analysis Mastery workshop". This seminar will be for anyone who has some experience in graphology or novice in this subject and wants to hear the new tips and techniques to become more accurate and expand your income potential through advanced training.


I've designed this "crash course" event to help you apply this information to your own relationships, career, and your own path for spiritual growth. Handwriting analysis is the key which opens that door to.

Handwriting is the topic all day - but the benefit is deeper rapport, understanding, making more money, developing better relationships, solving crimes, helping legal troubles, and the ability to change your own and other's lives.

Now, if you enroll early, you can get instant access to over $214 dollars in Handwriting University online training courses . This includes Bart Baggett's monthly membership course and online video training programs.

The first 100 students who enroll & prepay get the following special BONUS items.

Special Bonus Items for Participant's in Bart Baggett's Handwriting Mastery Event
August 2009 Mumbai Enrollment.

1. 3 Months of Handwriting University's Online Membership Site Full Access. $51 value. (http://handwritinguniversity.com/members/catalog/)
2. Full Online Access to the Level 100 Introductory Course $17
3. Full Online Access to the Level 101 Handwriting Starter Kit $47
4. Full Online Access to the Level 201 Interactive Dictionary & Course $99
Includes, the most recent 201 Full Trait Dictionary in easy-to-print PDF file.

Total Value in US dollars: $214 (free to first 100 participants)

All yours free with fully paid enrollment.

Enroll early, get all bonuses early.

Plus, as you will be the first ones in India to enroll into the Forensic Doc Exam Training, starting in 2010. Enroll now into this unique event.

Here's Some of What Bart Sill Reveal to You

Intimate Break out sessions where you analyze never before seen handwriting samples of real individuals... then confirm your findings through video interviews.
Learning techniques to easily memorize the primary trait dictionary and verbal explanations of each trait.
Speed Learning Hypnosis Video for instant review of basic traits and advanced trait stacking techniques.
Complete Primary Trait Dictionary - Instant bonus download via PDF file upon enrollment via this website. Paper version given to you at the event.

Make money 4 different ways using your handwriting skills.

Discover sexuality in handwriting and watch video interviews of people discussing candidly how it is revealed in thier writing.
Plenty of social time to make new friends and reunite with old ones... remember the friend you met last time Bart was in Mumbai.. 2007?
Detailed "ASK ANYTHING" sessions based on group questions each day

Introduction to Forensic Document Examination Career with real current students and faculty members.
Daily Prizes, Quizes, and prized for top test scores and class participation
Photo opportunities and book signings with Bart Baggett.
Marketing discussion on 4 different ways you can earn money leveraging handwriting analysis as a part time career.
Full in-depth overview of the new career of Forensic Document Examination through the USA based distance learning program (InternationalSchool.us)

Exact hourly schedule wil be posted the week of the event. However, here is a the estimated daily schedule for the 2009 Mumbai Event.

------------------------ Day One ----------------------
August 29th: Saturday 7:30am - 8:30am Official Registration Begins.
August 29th: Saturday 9am - 6pm First day of seminar.
Fundamentals of the USA Handwriting Analysis Basic and Advanced Trait Stroke System.
Level 101 -Level 301 Concepts . 60 traits and strokes reviewed. Trait Stacking for Advanced Profiling, Hot seats, live analysis, and round table discussions. Video Personality Interviews of Hot Samples.

------------------------ Day Two ----------------------
August 30th, Friday 8:30am-6pm
Grapho-therapy, The Art of the Verbal Analysis - How to Say it Three Ways, Grapho-Therapy for Kids and Adults, Health in Handwriting, Forgery Detection and Forensic Handwriting Examination, Money and Sex , Video Personality Interviews of Hot Samples.




EARLY ENROLLMENT DISCOUNT SCHEDULE

Enroll Before This Date

Discounted Enrollment if you purchase your ticket before August 21st, 2009

*Early Enrollment Discounts. Save Big
by purchasing online.


$700 US/ Not US prices

Just $150 now using a credit card.
or 6000 rupees payable in person in India.


Ticket Price On the Spot
( If seats are available.)

Purchase Before August 27th, 2009


$190 / 7000 RS
Bart Baggett seminar alumni qualify for a special discount, inquire if you have attended Bart's events anytime over the past 10 years.

* Use a credit card on this website and recieve instant downloadable bonus items not available for cash transactions in rupees.


Please RSVP early, using this online ording system via our USA based office, which is active now using any international credit card (Mastercard, Visa, Amex, or Discover) We also accept paypal during checkout.

If you do utilize this online ordering system, you will receive instant online bonuses... including the actual USA based "seminar bonus" area, not available to cash paying Indian students. These bonuses include the current PDF Primary Trait Dictionary and a 90 minute mp3 audio file of Bart Baggett's "Secrets of Passing the USA based Certification Exams" teleclass recorded in June of 2009.

If you do not have an international credit card (your Visa/MC/Discover or AMEX will read Handwriting University, Dallas, TX USA)... then you can pay in Indian Rupees in cash directly to Mr. Parag Katri at the World Center for Graphotherapy main office in Mumbai, India.

Mode of Payment:

Cash or Credit Card or Cheque.

Mumbai payable or from multi city banking banks or
Demand Draft payable at Mumbai for outstation participants

In favor of:
" WORLD SCHOOL OF GRAPHO EDUCATION & THERAPY "

May please be sent to:
C/o DR. PARAG M. KHATRI
68, Vishal Shopping Centre, Sir M. V. Road, Andheri (E),Mumbai - 400 069 (INDIA)

Seminar Directors:

Dr. Parag M. Khatri

WORLD SCHOOL OF GRAPHO
EDUCATION & THERAPY
Mumbai - 400 069 (India).
Tel.: 022 2683 5555

E-mail: drparagk @ yahoo.com
Mobile: Dr. P. M. Khatri - 98211 50555
Raveeshekhar - 9892494874
Art Baimkin
West Hollywood, CA

Susan Knoll
Valencia, CA
Here's More of What You Will Learn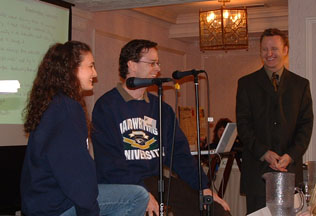 "This course has helped me personally understand myself clearer and helped me see areas of my personality that need changing. I am fascinated with what makes a person act the way they do so this can give me great insight. I LOVE THIS COURSE! I believe it is totally worth the money. In fact, I believe you should charge more. You can't put a price on the information you present and the effects it can have on people."
Jody Miller, Sugarland, TX USA
Listen to comments by Jody & Chip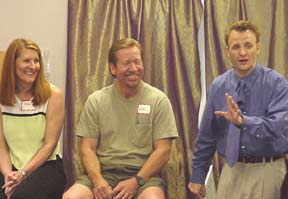 Bart Baggett leading a handwriting analysis lecture
with two seminar participants on-stage.
Dear Bart and Curtis,Thank you. There is no way to fully express my gratitude for this seminar. I think it came at just the right time. I am very excited that I will be able to help people. I have finally found my niche. Anyone considering taking this course, should stop considering it and DO IT! I'm thrilled in knowing I go home with so much more than ever before.
Kim Brown, Private Investigator
Hyde Park, Utah, USA

Rita Gonzales
Santa Fe, NM

Our events contain more than just handwriting analysis - our faculty teaches therapy techniques, self-help tips, marketing for your business, business tips to make money, and modern psychology you won't read in any book.

In fact, we asked the faculty to focus on things NOT found in other common handwriting books you will find in major bookstores. You will leave knowing things very few other people know.
One of the most exciting parts of each conference is the guest speakers and one-on-one attention given to each audience member by HandwritingUniversity.com's many extraordinary faculty members.

That event was so raved about and well received, students from other parts of the country (and world) have begged us to come to their city in the coming years. We only do one conference a year...and this is it for 2009. Enroll early.


Want more details?

Contact: DR. P. M. KHATRI
68, Vishal Shopping Centre,
Sir M. V. Road, Andheri (E),
Mumbai - 400 069 (India).
Tel.: 022 2683 5555

Where: Mumbai, India

The venue is:

BJN BANQUETS
Time: 8.30a.m. To 6 p.m. Saturday and Sunday.
Fun Republic, Level 6, Andheri (West), Mumbai - 400053

For tickets contact your local seminar organizer:
Dr. Parag Katri :
68, Vishal Shopping Centre,
Sir M. V. Road, Andheri (E),
Mumbai - 400 069 (India).
Tel.: 022 2683 5555 / 98211 50555


When:
August 29th, 2009: Saturday

August 30th, 2009 : Sunday

---
The 2007 Live Event was a tremendous success.
Bart only comes to India once every 2 years... don't miss out.

---
All requests for cancellation of conference registration must be made to Handwriting University International Headquarters in writing by fax or snail mail. Phone cancellations will not be accepted. All cancellations/refund requests will be assessed a $50 / 2500 Rs administrative fee per ticket. Any cancellation request received within 10-30 days prior of the event will be issued in the form of credit voucher at 100% of the ticket price paid, minus the $50 administrative fee. Any cancellations received within 9 days prior to the event will receive no credit and no refund. The ticket is transferable and you can send someone else to the conference in your place.
For more information on administrative policies, such as grievances, contact our Indian Administrator or our USA based headquarters. The performance of this conference is subject to the acts of God, war, government regulation, disaster, strikes, civil disorder, curtailment of transportation facilities, or any other emergency making it impossible to hold the conference. In the event of such occurrences, credit vouchers will be issued in lieu of cash. Conference schedule and speakers are subject to change without notice.
Dr. Parag M. Khatri
WORLD SCHOOL OF GRAPHO
EDUCATION & THERAPY
C/O DR. P. M. KHATRI
68, Vishal Shopping Centre,
Sir M. V. Road, Andheri (E),
Mumbai - 400 069 (India).
Tel.: 022 2683 5555
---
Questions? Call Our International
Headquarters@ 1-309-266-5373
© Copyright 2009 Bart Baggett
All rights reserved
This page last updated on August 15th, 2009