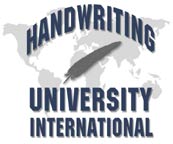 Press Release
For Release During "Back to School" Season
For Further Information Contact: Bart Baggett 310 614-6593, available Los Angeles and nationwide.
Handwriting Expert Tells School Children Not to Listen to Their Teachers
Handwriting Expert Sparks "Back to School" Controversy
Minneapolis, MN:
Bart Baggett, one of the nation's premiere handwriting expert and author on the topic, told millions of children last week, on radio AAHS Network, to ignore teachers and change the way they write the letter "t". Baggett is trying to convince Parents and Teachers that changing their children's handwriting will create higher grades, better behavior, and a happier childhood. Baggett has begun implementing a new program that he says "is revolutionizing and challenging the way cursive handwriting is taught in elementary schools across the nation". Some teachers and parents embrace it, kids enjoy it, critics scoff. Susan Foster, a third grade teacher in Henderson, NV, is one of Baggett's biggest supporters. She has documented the results of Baggett's program using her own students. "The kids love it and it really has made a difference in some of their personalities."
Baggett claims...
Children display "noticeable improvement" in attitude, concentration, and confidence.
Teachers that still teach the standard handwriting style are damaging our kids for life and should be ashamed of their ignorance!
There are 5 Trouble Traits you can easily spot in children's handwriting which can lead to trouble. Change them early and you can avoid disaster!
Free Books to the Media:
Baggett is so confident his program works... he is offering a 30 Day Challenge to any publication. Any media person can test the program on any classroom / student at Baggett's expense: he will provide copies of his new book, "Change Your Handwriting, Change Your Life Workbook for Kids".
For Further Information: Call 310 614-6593
---
To Book, Call 310 614-6593, available Los Angeles and nationwide.
---
| On-Line Catalog | Free Special Reports | Handwriting Self-Test | Hire an Expert | Learn Handwriting Analysis | Self-Improvement | Books, Tapes and Videos | Trait Dictionary | Frequently Asked Questions | Famous People | For the Media | Comments and Testimonials | Chatroom | Place an Order | Affiliates | Home |
---
Information about Bart A. Baggett
Questions or comments? Send e-mail to: admin@myhandwriting.com
Copyright © 1995-2000 Bart A. Baggett, All Rights Reserved


Thank you for visiting the world's most popular handwriting analysis web site. Remember you can learn more about handwriting, handwriting analysis, graphology, handwriting experts, employment screening, document examining, or even earn $100 an hour as a professional handwriting expert (includes software) via our home study courses!