March 21st - March 22nd 2015


Los Angeles, California

Hi there, this is Bart Baggett and I have been asked repeatedly over the years to create an event where YOU can sit side-by-side with a trained and certified handwriting expert to really perfect your skills of understanding personality through handwriting.
How much more could you learn if you had me sitting next to you while we point and analyze handwriting together? If you've been wanting to learn handwriting analysis in a way that is more personal and intimate that a "large seminar", then this event is just what you've been waiting for.
What's more, I've designed this event for both "Certified Graduates" and "Students" so everyone can learn from each other, in addition to me, the host.
I understand that learning through a home study course can sometimes be challenging and takes disicpline and time.  I also understand that listening to DVDs and CDs is not always the ideal way to learn for many people... but it has trained thousands of people around the world that are excellent handwriting analysts. 
With that being said, I'd like to offer an opportunity to sit down with me and pick my brain, in person, in a very small group.
The Certification Roundtable Weekend
There are many phrases that could to describe this two day event.  You and 11 other certification students can sit in a small conference room in Los Angeles, California and pick my brain until all your questions are answered (or my head is empty - whichever comes first.)  What I have planned for you is not a lecture where I speak for eight hours and you take notes.  NO. NO. NO.  This is so much better, more personal, and more engaging.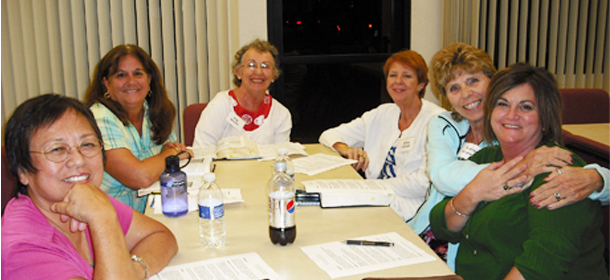 This is an interactive two way CONVERSATION where we talk about handwriting traits, the best phrases to say and NOT to say, teaching methods for future Authorized Trainers, and I tell you everything I know about the psychology behind the writing... including lots of theories and stories not included in my books or DVDS.
We will discuss core human motivation, advanced grapho-therapy, the source of all fears, human drives, and any "transformational technique" that comes to my mind to help you help yourself and others. And in the middle of all that, you ask me questions and we analyzed people, together.
You might ask about how a particular trait manifests in your own life, other people's lives and how it mixes with other personalities traits you might see in the handwriting. It is a in-depth discussion of psychology, personality, social psychology, and personal development — making you a more educated, confident, and accurate handwriting analyst. What's more... if you want to use handwriting analysis in any form to make money, open a business, become a speaker, or just finally wlak away CERTIFIED... this is one of your few chances in 2015 to get personal coaching from me in a casual conference room environment.
What's more... if you have the idea in your head to become a local teacher, trainer, or open a business doing handwriting analysis, there is a special place at the table for "Graduates" who want to learn how to become teachers and eventually host their own "handwriting classes" in your home town. Of the seats at the table, 12 will be available for students, and the rest will be available for "Certified Experts" who want to come to learn, to teach, and to get a refresher course on the fundementals of handwriting direct from the horses mouth. (I would be the horse, in that metaphor.)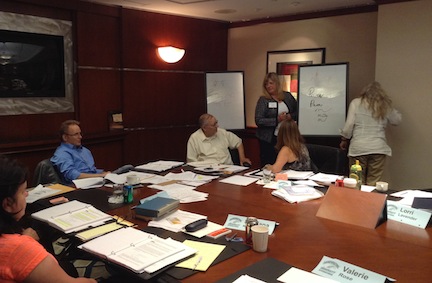 Therefore, the students get to learn from more than just me... they will have other certified students in the room so everyone gets tons of personal attention and the Certified Students get more exprience teaching core concepts so they become better teachers.
As you might know, Handwriting University is actively looking for Certified Experts in cities worldwide to become an Authorized Trainer and hold classes under our International Handwriting University Brand.. this is a great way to get a head start on qualifiying to be one of the few select graduates who will get accepted into the "Authorized Trainer" program.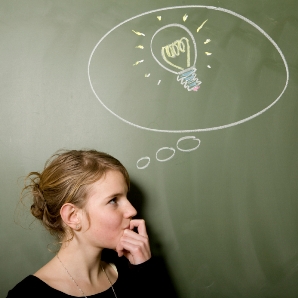 Learn to Diagram a Handwriting Sample Using My Unique "Mind Map" Mental Process
I want to help you diagram a handwriting sample using arrows and notes, so you can understand the mental process I use when analyzing handwriting. We will have fresh handwriting samples which you will get to "diagram" with my help and come to a conclusion about which traits are significant or missing.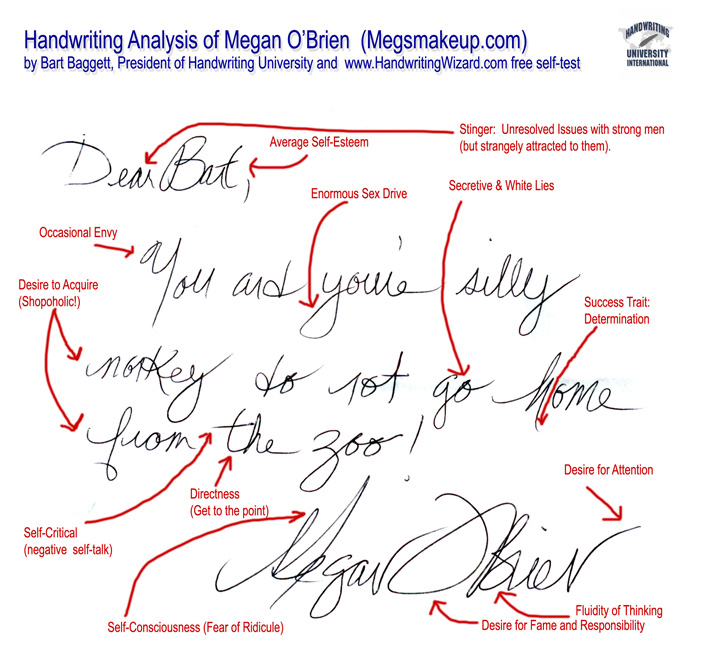 Build Your Confidence and Verbal Analysis Ability
This is a step-by-step, highly personalized event which will help you overcome any doubts you have about certain traits, clarify any questions, and remove any mental blocks about being absolutely confident that what you see in the handwriting is accurate and that you are going to say the right thing.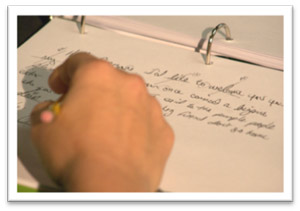 What I've noticed from teaching handwriting analysis and personal transofrmation techniques for the last 24 years is that some people get confused or have doubts because they have a burning question left unanswered.  Therefore, some people feel shy, hesitant or they make poor to average decisions when analyzing a handwriting sample.  This slight indecision forces most people to doubt their ability and keep it in their back pocket as a "hobby"... not a second "career". This can be a career. We even have a new program that allow graduates to quickly earn back their entire investment quickly. Many of these professional marketing secrets will be discussed Sunday afternooon (after the exams are complete). You will be relaxed and in a mood to celebrate your passing grades.
I want you to make accurate, amazing, on-the-money analysis and have the confidence to help people change their lives.  I want you to be laser accurate, just like I am.  I want you to understand the mental process that I go through when I analyze a handwriting so that you too can get the "Amazing. Oh my god! How did you see that?" response. 
What's more... I want you to walk away certifed. I expect many people form this session to return home and open up a local Authorized Training Center and start teaching, conuslting with small businsesse, speaking, and making a difference in your home town.
This Weekend End Experience is Limited to
Just 12 Select Students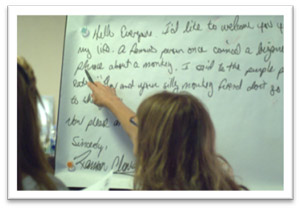 If you've ever wanted some semi-private, personal coaching so that you can become a better judge of human beings' personality motivations, then come to Los Angeles and spend some time with me and just a few other students.  I'm strictly limiting this event to 12 students (plus a few mentors) so that you can have a lot of personal time and ask anything on your mind.
We'll be eating lunch together, be talking about business and personal life... and we'll in the small conference room making life-long friends. You'll get unlimited personal attention as you and just a few other people pick my brain about pyschology, transformation, coaching, change, and even the business side of handwriting analysis.
Now you'd think I'd be charging $3,000.00 and $5,000.00 to be able to spend this much time with you on such a private small group setting. Well, I probably could stuff 100 people in the room... but I want you to have a different experience than a large packed conference. (Conferences are great experiences, but it is a different experience. I want to connect with you. I want to remember you name, your face. I want to have the chance to really know you and feel thrilled to say I was your mentor when you start writing books, doing TV shows and being the star that you might turn into.)
So, I've priced the investment at a cost anyone can afford. 
Last year, charged the low investment of just $895.00.  It was a great experience and the attendees left with life-long friends.
Heres the deal. I want to meet my best students and graduates face-to-face. I want connect with you and call you my friend. Sometimes the internet can be so impersonal. Even emails and tele-classes don't duplicate the lifelong friendships that a live small event can duplicate. I want to create a few stellar, amazing, certified handwriting analysts around the world that represent handwriting in a wonderful way. I want to train you, I want to share with you how to make a full or part-time living with this, and I want to help you build a career. 
Retail Price Certification Candidate: $895 + $300 Testing Fee = $1195 Total

MARCH 2015 LIMITED TIME OFFER: $800 off . $1195 - $800 = $395. That's just $95 plus the testing fee.

But, you must enroll by March 10th, 2015. (First 8 Seats Sold. First come, first serve.)

Retail Certified Mentor : $350 = $350 Total

MARCH 2015 LIMITED TIME OFFER: $150 off . $350 - $200 = $200.

That's just $100 a day for the entire weekend.
I'm not raising the price after 4 days. I'm not creating a fake "deadline" where the price doubles. it's quite simple. There are 12 student seats and then there are no more. The entire table (it's a large table) only fits 19 people besides me.
First come, first serve. Once all the seats are sold, everyone else will be on the waiting list.
Plus, I'm even throwing a super cool "bonus audio mp3 seminar" to anyone who registers before March 10th. This event is similar is structure as the one you will be attending... but it was by telephone, so you will start learning and hear questions, answers and get ideas before you even arrive at the event.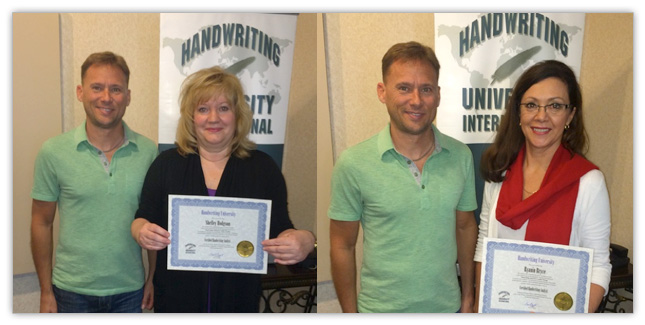 Secure Your Seat Today with a
simple deposit of $200.
RSVP Your Seat Today, or Get On The Waiting List
Please reserve your seat by clicking the RSVP button below. We will personalyl call and confirm your reservation, based on the date and time the RSVP order comes through our shopping cart. We know that we might get 20 - 30 RSVPs and we even will have last minute cancellations (for personal reasons, it always happens). So, anyone who enrolls after we are full will be put on a "Priority Waiting List" and your $200 will be refunded if you don't get a seat. Totally Risk Free.
That sounds fair, doesn't it?
Once we get all 19 chairs "confirmed", this page will be closed for new RSVPs and we will start a "stand-by" list in the case of any cancellations.
If you are among the first 12 Certification Students who RSVP using the button below, our staff will call you and give a full week to get your schedule arranged, discuss it with your family, arrange your work schedule, process your full payment, or simply cancel and get a refund of the $200. If so, we will then open up your seat for the next person on the waiting list. You should feel secure making the RSVP today and then having time to "arrange" everything before you make the full commitment. We understand this and will work with you hand-in-hand to make sure it is a good fit. Don't worry, if you can't make it, person #13 will be thrilled to take your spot.
Also, if you want to attend but you already know you cannot make it to Los Angeles on these specific dates, consider coming along on my next trip to India in December of 2014. This will be an entirly different event, about 4 times more expensive... but totally worth it. This is the only event of this type in the USA this year... do your best to make it to Los Angeles.
Make Your Reservation Using the Button Below
Yes, RSVP Me Now.
Hold My Spot fof $200

If you are among the first 12 students who make a deposit, you will simply pay the balance in full once we confirm your seat.

We will send you that link in the coming few days once our staff confirms there is a seat for you.

It does not matter if you are attending as a "Certification Candidate" or a "Mentor" who already holds your certificate, please use the $200 RSVP button to the left to reserve your seat. You will be contacted within a few days if you are amont the first first 12 students or 7 graduates who make a deposit. Then, you will be given all the hotel and travel detals. We do not want you making travel arrangments until your seat if fully confirmed. The room in LA really only has 20 chairs. (Photos on this page.)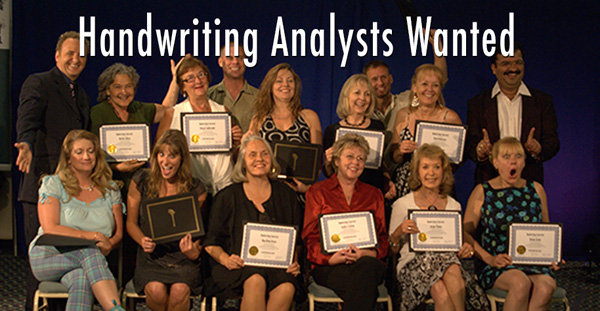 If you have any questions about attending this event, please call and chat with the event co-ordinator, Christine (310-684-3489 Ext. 2).

Please call our office in Los Angeles and speak to one of our staff about how this event might be a great investment for you to attend.

However, we suggest you RSVP first, since it might take us 2 days to schedule a time to speak with you. We cannot hold your spot without the $200 RSVP, refundable fee paid in advance.

If you have any ideas to make it even better or add something just for you...
please ask.

1-310-684-3489 ext 2
Call our office with questions.
Criteria:

You must be enrolled into the Certification Course or already hold your "Certification" from the Handwriting University International program. While we might cover "basic concepts", this is not for beginners. If one person is "brand new" and doesn't have the basic Grapho-Deck memorized... the other people will be bored and miss out all the "advanced concepts" which would be lost on a beginner.
If you want to attend, but don't own the Certification Home Study course, then this event is not for you. The conversation is not for raw beginners. So, only RSVP if you've owned the course and been analyzing handwritnig for at least a few months. You must have a working knowledge of the entire basic trait dictionary to attend.

On Sunday, we will be alloting time to take your written and verbal tests "in person" and those that pass will leave with a signed certificate and a photograph with our Handwriting University team!
Also, if you are already "Certified", you will get special training on how to administer the verbal and written tests and assist in the testing (if you want to do so.) There are a few select "mentor" spots available to help you on the path to becoming an Authorized Trainer and teaching Certification Courses in your home town.
Plus, as a special bonus session on Sunday afternoon, I will give you a copy of my latest unpublished book, How to Hire and Attract Amazing Employees" and teach you how to start your own "Hiring and Human Resource" Consulting company on Monday morning. This is a never before taught session you won't want to miss.
 You don't have to take your test or ever become a "Certified Handwriting Expert", but you can if feel you are ready on Sunday. Select mentors will assist in the testing process, too. If you want to take your tests, make sure you bring your 21 written tests found at the end of Dr. Walker's textbook. Even if you are not 100% finished, bring the test you have completed and we will work through the questions you have not answered and answer them as a group.

Included:

BONUS ITEMS FOR THE FIRST 12 RSVPs we receive before March 10th, 2015

(We will give you this bonus whether or not you confirm your ticket. Just press reserve today.
Its' a free gift just for expressing interest.)

You must be enrolled into the Level 301 Certification Home Study Course to get the full value of these audio recordings.


Listen to MP3 recordings of the 4 recorded live tele-classes dedicated to completing the test and becoming accurate and competent analyst.

Bart Baggett hosted four live intimate tele-conference classes over four months in 4 classes with just 12 students.

These classes will covered sections of the Home Study Course that will help you to better understand handwriting analysis while you work your way through the Home Study Course. Each class will end with a test review and the last class you will be ready to pass your Certification tests. This is accessible with minutes upon your registartion.

Class 1 Chapters 1-5: Basic Traits & Emotional Outlay
Class 2 Chapters 6-10: Thinking, Intelligence & the letter 'D' and 'T
Class 3 Chapters 11-16: Attitude, Lower zones, and Sex Drives
Class 4 Chapters 17-22: Fears, Motivation, Communication, Criminal Tendencies and Grapho-therapy, and Test Review


March 21st - March 22nd 2015
Los Angeles, California
Saturday 8AM-6PM Round Table Discussions and Review of Key Concepts for Testing and Professional Practice.
Sunday 8AM-10AM Test Preparations and final questions.
Sunday 10AM-1PM Certification Testing (Optional for Handwriting University Enrolled Students Who Own the Certification Course) Written multiple choice and verbal tests.
Sunday 2PM - 4PM  Graduation Photos and Business Building Strategies for turning this skill into a full or part time business. The Advanced Methods of Hiring Employees and the Authorized Mentor Program Overview.
*Additional Testing fee does apply and this will be reflected in your price upon Confirmation.
If you are flying in and have the option of flying into Burbank Airport, you will find this is a much closer and easier travel option than LAX because the Burbank Airport is only 5 miles from Universial City Sheraton.
The location has been confirmed. It is being held inside the Universal City complex at the Universal Sheraton.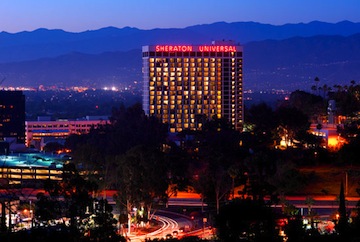 We suggest you stay at the property using the discount room rates of about $175 a night and stay and enjoy all the fun and restaurants within walking distance.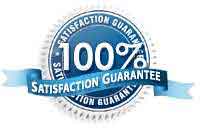 Yes. Your investment is 100% guaranteed. If you are not totally absolutely thrilled with the event on Saturday evening at 6pm... we will issue a full refund, no questioned asked. We take all the risk, you get all the knowledge.
Meals and lodging are not included.
Also, if you reserve a spot and cancel within 30 days of the event, a full refund will be issued or transferred to the next event. All cancellations within 7 days will be issued a credti for future events or products.
Spend a weekend with me and walk away a better
handwriting analyst and even with a new career.

Bart Baggett is the founder of Handwriting University International which has students in 21 countries worldwide and campuses across the USA, Taiwan, and India. Since writing his first book at age 23, he has become a worldwide leader in handwriting analysis, grapho-therapy, and a leader personal development. He has appeared on over 1500 radio / TV programs including CNN's Larry King Live and the Today Show.

Since 1996, he has been training and certifying individuals in the scientific methods of handwriting analysis and grapho-therapy. He has a #1 best seller at Amazon.com and his first book has sold over 50,000 copies worldwide. He is a highly paid professional speaker and spokesperson on TV.

Mr. Baggett lives in Los Angeles, California and spends his time doing forensic document examination, professional speaking, and even producing and acting in feature films. He is a very interesting and world traveled individual. You will enjoy your time with him.

1-310-684-3489 ext 2
Call our office anytime with questions.
If you cannot attend, please consider joining the Authorized Training Program which just
launched in March of 2015. Be the first person in your city or state which is authorized to
teach, resell, and represent Handwriting University as a partner.
Plus, get listed on all our websites as a recommended Authorized Mentor / Trainer.
http://handwritinguniversity.com/authorizedtrainerprogram/
Bart hosts live webinars for handwriting experts who want to
build a career in writing and speaking. Consider joining the
worldwide MasterMind group this month and get started
on the business side of the handwriting business.