Raise your kids' grades and self-image
through handwriting changes.
"The Write Stuff" article as appeared in Family Life Magazine.
The original article follows below.

The original article, (which appeared in an issue of Family Life Magazine), resulted in hundreds of orders of the book "Change Your Life in 30 Days" with incredible results. If you have kids, don't miss out on ordering this book and tape set for them.
================================
FEATURE STORY : The Write Stuff
================================

The original article, (which appeared in an issue of Family Life Magazine), featured interviews with Bart Baggett and kids who have used his "Change Your Life in 30 Days Workbook for Kids" to improve their grades and self-esteem. All children featured in the article have experienced success stories with Bart's books and the workbook for kids.

------------------------------------------------------------------------

Easing homework struggles can be as simple as improving your child's penmanship.

"The Write Stuff"
Written by Alix Strauss,
Family Life Magazine

Ten-year-old Ryan Waton worked hard on his homework. But after getting some of his assignments back from his teacher, he felt frustrated, angry and ready to give up. "Why try?" he thought, since his grades didn't reflect his efforts. Then Ryan took a handwriting improvement course, Change Your Life in 30 Days Workbook for Kids, and both his grades and his behavior changed. "He calmed down and seemed more focused," says his dad, Craig. "It made Ryan feel good about himself, and gave us time to work together as a team. It was great."


Even with the computer boom, handwriting is still a day-to-day necessity. And it should come as no surprise that handwriting analysis can reveal a lot about someone's personality. We write the way we think. "It's really brainwriting," says Bill Howatt, Ph.D, a psychologist and author of 'Teacher's Survival Guide for the 21st Century.' "Our thoughts reflect our neurological patterns. When we alter the way we write, we alter the way we think." In fact, a few simple adjustments in handwriting can help a child become more focused and organized, increase his memory and gain self-esteem. Teachers, therapists and parents are realizing that these steps can boost a child's grades and performance.


A SELF ESTEEM BOOST

All this may sound a bit hard to believe, but it can be achieved by a process that specialists call Grapho-therapy. Based on the idea that healthy writing equals healthy thinking, Grapho-therapy works to interpret and adjust writing patterns that directly affect behavior, often emphasizing that certain letter strokes can help build particular character traits.


"When you change a child's handwriting, you are taking negative thoughts and habits and replacing them with supportive, positive ones," says Vilama Rogers, a handwriting expert. Simple changes, it seems, can make all the difference. If a child's writing is large, making smaller letters increases concentration. By crossing the letter 't' on the top of the stem, a child can become more confident. Placing the dot closer to the stem of the letter 'i' increases memory and attention to detail. Once a child learns a few easy steps, each letter he or she makes is like a small compliment. "It's positive reinforcement, whether conscious or unconscious," says Rodgers.

It's not uncommon for a child to be ashamed of poor handwriting, says handwriting specialist Kate Gladstone. "He might notice that a friend's handwriting is neater, or that teachers say he's not trying hard enough. This can lower a child's self-esteem," Eighth grader J.J. Pallotti thought he needed to change his handwriting and decided to make it the subject of his science project. So, he talked his parents into buying him Bart Baggett's workbook "Change Your Life in 30 Days Workbook for Kids." "I knew my handwriting was messy, and I read in a book about how you could improve it," he says. "Each day, I practiced certain letters, and within 30 days my writing got neater. I got better grades and improved my concentration to study for tests and do schoolwork."

NEATNESS COUNTS

As unfair as it may seem, legibility is a crucial aspect of the grading system. "If a child's handwriting is illegible, his or her grades will deteriorate because the teacher can't understand it," says Rodgers. Obviously, the most important issue is that the work itself should be correct, but with a messy paper, your child could get a lower grade despite the accuracy of her work. "Teachers tend to say, 'a neater paper, a smarter child,'" says Sheila Mignone, a language teacher at the Ursuline School in New Rochelle, New York. Studies have shown that assignments with better handwriting consistently receive higher scores than do those with poor handwriting, regardless of the quality of the content. Poor handwriting can bring your child's grades down in other ways too: errors in copying problems can reduce a child's math grades by as much as 20%.


Just by practicing writing on the child's own or with you, he or she can improve the legibility of his or her handwriting. Don't despair if that's the only result you see - simply making work readable is half the battle. Like Ryan Waton, a child who completes an assignment, but is criticized or penalized for sloppy writing, may not work as hard next time, making the grades fall even more.


PRACTICE MAKES PERFECT

Some simple tools - such as lined paper and graph paper, pencil grips that make writing easier, and turning a yellow legal pad sideways to keep match columns straight - can help. Not only will your child's assignments look neater, but they will also help him or her display full ability. When your child sits down to practice, make it fun and easy.

There are several excellent handwriting books and programs available. You can also create exercises yourself. "Don't draw attention to a weak area or make your child feel bad," says Bart Baggett, who is Director of Handwriting University.com and the Author of "Change Your Life in 30Days: A Workbook for Kids" (//myhandwriting.com/change/kidsbook.html ) "Take the standpoint of 'We're going to improve together.

"That's why we also have a workbook for parents and the handwriting flash cards. It makes it seem like a team effort." Baggett cautions forcing a change on your children's handwriting without knowing the psychology behind the change. "You don't want to program more stubbornness or give your child a temper by making him write the t-stem incorrectly."

Fifteen minutes of practice, four or five days a week for about a month, is all it takes to see improvements in behavior and penmanship. Grab a marker, pencil or pen and try these exercises:

1. Determine which letters are difficult for your child - ask him or her. Work on the specific letters in which your child is having problems. Write these letters and have your child copy them.

2. Make up writing games that are both fun and entertaining. For example, ask each other questions and write down the answers. This not only improves handwriting, but also opens up communication about a wide variety of subjects.

3. Use colorful markers to draw a few letters on a large sheet of paper taped to the wall.

Let your child trace over your letters, and then have him or her make the letters next to yours.

4. Start a journal with your child and have him or her write in it regularly. This gives your child the opportunity to look back and see his or her progress.

5. Trace letters or words on your child's back with your finger. See if he or she can guess what you are writing. Then switch and allow your child to trace on your back.

6. Make a cake! Pour cake batter on a large cookie sheet and bake. Once the cake has cooled, let your child decorate the cake by writing the alphabet on the top in icing. This exercise helps improve spacing and letter size. After your child has finished, he or she has a tasty reward waiting.


For more information about how changing your child's handwriting can positively affect your child's grades, confidence and attitude, visit the website and click on Parent's Special Offer:


//myhandwriting.com/change/kidsbook.html

Reg...$29.95

SALE PRICE: $ 19.95 (plus s/h)

.

Or call Bart Baggett's office directly and ask for the special Family Life Kid's Book offer. 1-800-398-2278
=============== SPOTLIGHTED LEARNING TOOL =====================
'Change Your Life in 30Days: A Workbook for Kids'
Now that you've read the article, learn more about Bart Baggett's 30 Day Workbook for Kids
Would you like to improve your child's self-esteem, confidence and grades?
In 30 days or less, you will notice that your child will experience...

* Improved grades
* Increase in energy
* Longer attention span
* Improved self-esteem
* Improved mental clarity
* Higher level of self-confidence
* Fewer fears
* More legible handwriting
If you want to work WITH your children and really help them understand the personality traits of the journal, simply order this combination "KIT" which includes the Grapho-Deck Flash cards and it becomes a game of personality and more fun.
Plus, you, the adult also have a 30 day journal. This saves you money and insures the child finishes the 30 days... because it is a team project.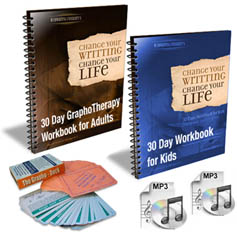 Just $49.95
Teacher/ Kids Kit
(Click here to read about the Kid's Workbook & Audio MP3 Download and Special Teachers/Kid's Course)
*Order extra kids book at this discounted price of $17.50 as part of the Teacher's Combo Kit. This is the best value. Save Over $30 if bought seperately. We recommend you order a Grapho-Deck with this course to easier explain the concepts to the children.
Read about the Journal Workbook for Adults, too.
For more information about how changing your child's handwriting can positively effect your child's grades, confidence, and attitude, call Bart Baggett's office directly and ask for the special Family Life Kid's Book offer. 1-800-398-2278