Become a Certified Handwriting Analyst in a few short months through our 2017 video, audio, and interactive Certification Home Study Course.
Enroll now into this unique Personality Profiling and Transformation Intensive Certification Home Study Course

using the map of handwriting analysis to identify, catagorize, and begin healing yourself and your clients. Instead of getting the big "box of stuff" pictured below, get a lifetime membership into the online curriculum which contains the very latest in training, quizzes, videos, and audio files.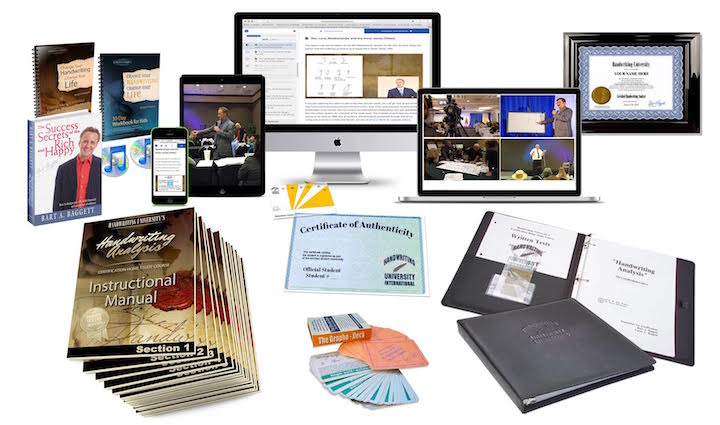 Even if you decide to invest in the "shipped to your door" textooks and DVD/ CD course, you will still want online access for the new structure and simplicity of the online tracking. You can still get the "heavy stuff" shipped to your door and pay shipping fees. It will arrive within 1-2 weeks. This is ideal for international students who want to get started right away. We even have specific modules in Hindi and English for those students in India.
What's more... the new 2017 interface is designed to take you step-by-step through the course. This will alliviate the overwhelm and confusion of which part to read in which order. Just follow the outline and you will succeed in mastering this skill.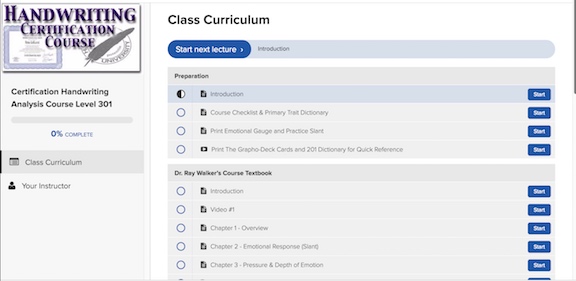 The online Certification course includes all the subjects you need and want to know:
Relationships, criminal minds, hiring and employee screening tips, sex drives, ethics, trust, communications skills, quick analysis, detailed analysis,writing reports, verbal analysis, the 8 major fears, and so much more.
You will be a certified handwriting expert when you complete your online training and pass your final exams!
The online course includes everything you see above, but in an online version. You can even download the videos and audios for times when you are not-connected to the internet.
The Level 101 / Beginner's course is not unlocked as part of this Level 301 Certification Course... so make sure you already own or get enrolled into the Level 101 course. The material inside the 301 references and presumes you have access to the tools and books inside the 101. The only thing the online course does not include is the "verbal testing fee" which mean when you are ready to get your certificate, you will have to pay a smalltesting fee to the faculty member to administer your final verbal exam. But hey, you can learn all the material now and only when you are ready, you can invest in the final exam.
Ready to finally get mastery of personality through handwriting?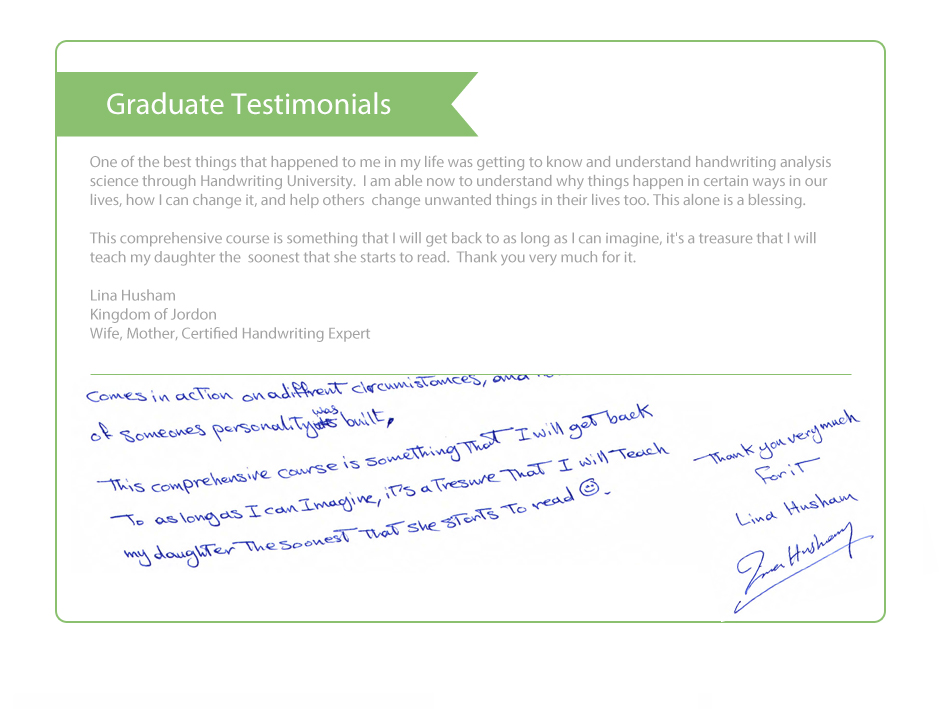 Below is a screen shot of the INDEX of the new 301 online membership course.. This is a long graphic which illustrates there really is ALL the goodies in the "big box", but you just have to view and download from your computer. The audio files are mp3 and MOV files. The video files are streamable (like Netflix) and downloadable. And, the books and text are pdf.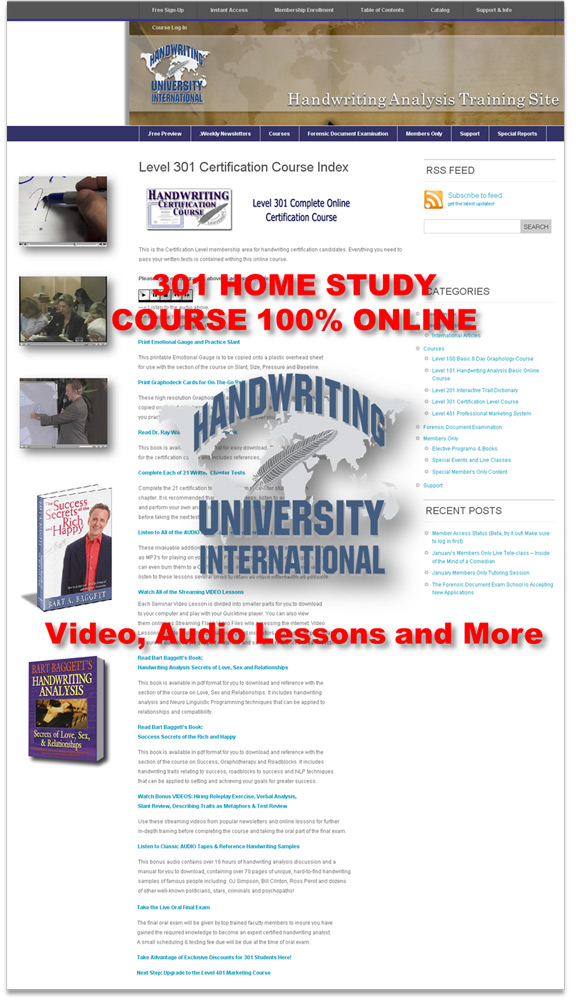 Handwriting Analysis Certification Home Study Course

Regular Tuition $2000.00 / Discounts available when
you enroll through an Authorized Trainer or Mentor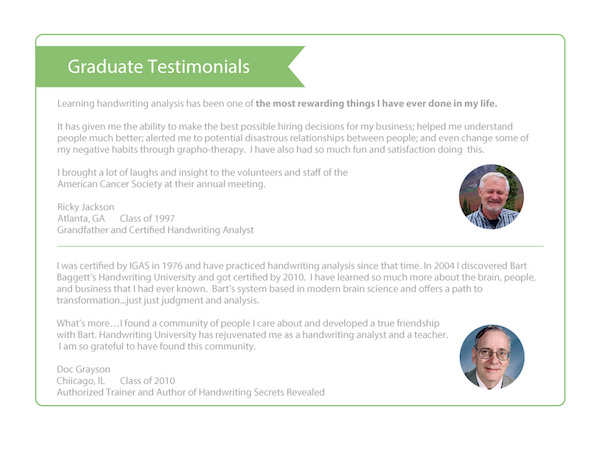 There is no better way to understand the benefits of taking this home study course than to read the actual comments from students who have completed the course, or just listen to the people talk about their own experience.



"My Handwriting Analysis Course has had the biggest impact on my life... It was the start of a life transformation. My self-esteem, confidence, creativity, and speed of learning have been dramatically strengthened. The results were quick and permanent. Oh, thank you so much for sharing this information. I recommend it to people everywhere I go!"
-- Lisa Marie Allen-Bitner, San Diego, CA
We are now taking enrollments for the Fall and Spring semesters. This includes live internet streaming classes and even private tutoring (if you enroll through a Mentor / Trainer). Therefore, if the "buy now" buttons are not active... then you will be placed on a waiting list until ENROLLMENT OPENS in the coming months.

If you are able to get enrolled from the online purchase, you will
get instant access to the latest online course and be contacted when
the next semester officially begins.

Step One:
1. Confirm you are already enrolled and have a username
for the level One/ 101 online training course.
2. Choose your option below to get started in the Certification Course.

100% Online Course

100% Home Study Course

Both: 100% Instant Acess and ship me the entire Standard Level Home Study Course


Instant Access via our level 301 Certification
membership online
training center.

Retail $2000

$1,498





IMPORTANT: Upon your complete order, call our office to retrieve instructions for your instant online access. Our office must manually set up your online account for this combonation offer.

$1499


______________________________________

And, if you already own the Handwriting 101 kit...
you can use the enrollment buttons on ths page
to get access to the Certification Level Course.

Dear Bart,

I believe this is the start of a new life for me, and I have Handwriting University to thank for a jump-start in a good direction, after years of failure and poverty. This last month I made $500 (approx.) from starting a brand-new at home business. Because my business is growing by leaps and bounds, with very little effort, I am determined to make a lot more effort and kick it into high gear.

I bought your course in September, and immediately saw some self-defeating behaviors and self-esteem issues that were holding me back. It has been a real struggle to raise that pesky t-bar, but I have kept at it. It was a lot easier to get rid of the wide t & d loops. I have made some other changes and have watched my personality change with my handwriting.

As a result, I have become very confident, and positive-minded. I am becoming a 'people magnet.' They come up to me and want to get to know me. It seems as if everyone smiles at me now when I pass by. (Is it because I have a smile on my face all the time, and they are just reflecting that? I don't really know, but the change in me is very exciting.)

Some very successful people have said that if you want to change your life, you have to first change yourself. I find that grapho-therapy is a very helpful tool in our arsenal to effect that change. Bravo, Bart, for giving me this tool. Thank you.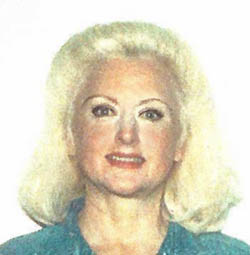 Sunny Meadows
Gresham, Oregon
Student of the Certification Level Home Study Course

| | |
| --- | --- |
| | Comments from a high school guidance counseler... |


See what real people are saying about Bart Baggett's Handwriting University live events and home study courses. Come to the Annual Conference.
Alaina Gorfaine - Las Vegas - Learned to stack traits better.
Julieta Sanchez (seminar review)
Christine Taylor, Sunnyvale, California
"Loved working with the instructor's in person."
Our Grateful Students Say...

"I am making $100 an hour reading handwriting at parties, impressing people with my highly accurate assessment of them, without ever having met them before! And all my knowledge comes from Bart's books, courses, and tapes. From what I learned from his "How to Analyze Your Handwriting in 10 minutes," I have been successfully reading people at both private and corporate events (as well as my friends). People are simply amazed at what I tell them, wondering how handwriting can be so accurate. And at parties they love it, enjoy hearing about themselves, and it is a fabulous (and VERY ACCURATE) way to analyze couples and see where they agree and where they disagree.
If you want to go further in depth in learning handwriting analysis, The Certification Course is the way to go. I am taking it now and find it fascinating because there is so much more information being presented, both in the books and through the tapes of a live course session. I know that I am getting a superior course in becoming a professionally certified handwriting analyst.
There is a great deal of depth to handwriting analysis, more than just entertainment, and for those who want to really develop their knowledge of this skill, Bart Baggett's courses without a doubt lead the way. You can be sure that you're getting information that is 100 percent accurate. I feel totally confident in what I tell people about themselves using the knowledge gained from Bart Baggett's books and tapes because--you know why?--the people themselves tell me how accurate I am!!!! "

- Read Greyer.