We are here to help you make money by referring customers to our company. We do all the shipping, fulfillment, customer service, and manufacturing. You focus on sending us pre-qualified prospects and we do the selling and conversion… then, we send you a check.

And, what's even better, there are 3 different ways for you to make money from referral people to our products and courses.
The first way is to sell a particular product from our referral partner center.
This is for affiliates that prefer to recommend specific products to their list which provide a specific solution which resonates with their customer base. For example, if JANE DATE has a list full of women who are dating online, she would be inclined to recommend the book on "relationships" and give a personal endorsement just before her affiliate link.
The steps to choose a specific product page are as follows:
Login to our infusionsoft affiliate center: https://ed127.infusionsoft.com/app/authentication/login
Select the link generator tab on the left side of your screen.
Select the product you want to sell and copy your unique tracking code from the right hand column.
Your tracking code will take your prospects directly to the webpage for that product, and your code is automatically embedded into that link. Once they reach that landing page, the customer's computer is cookied to insure you get credit for that sale.

Using the "encoded link" saves you from having to create a new webpage for each recommended product with an image of the individual product on that page. This can be a tedious process. Instead, just use the "encoded link in your email" and the tracking process is automated.
Here is a sample screen shot of this: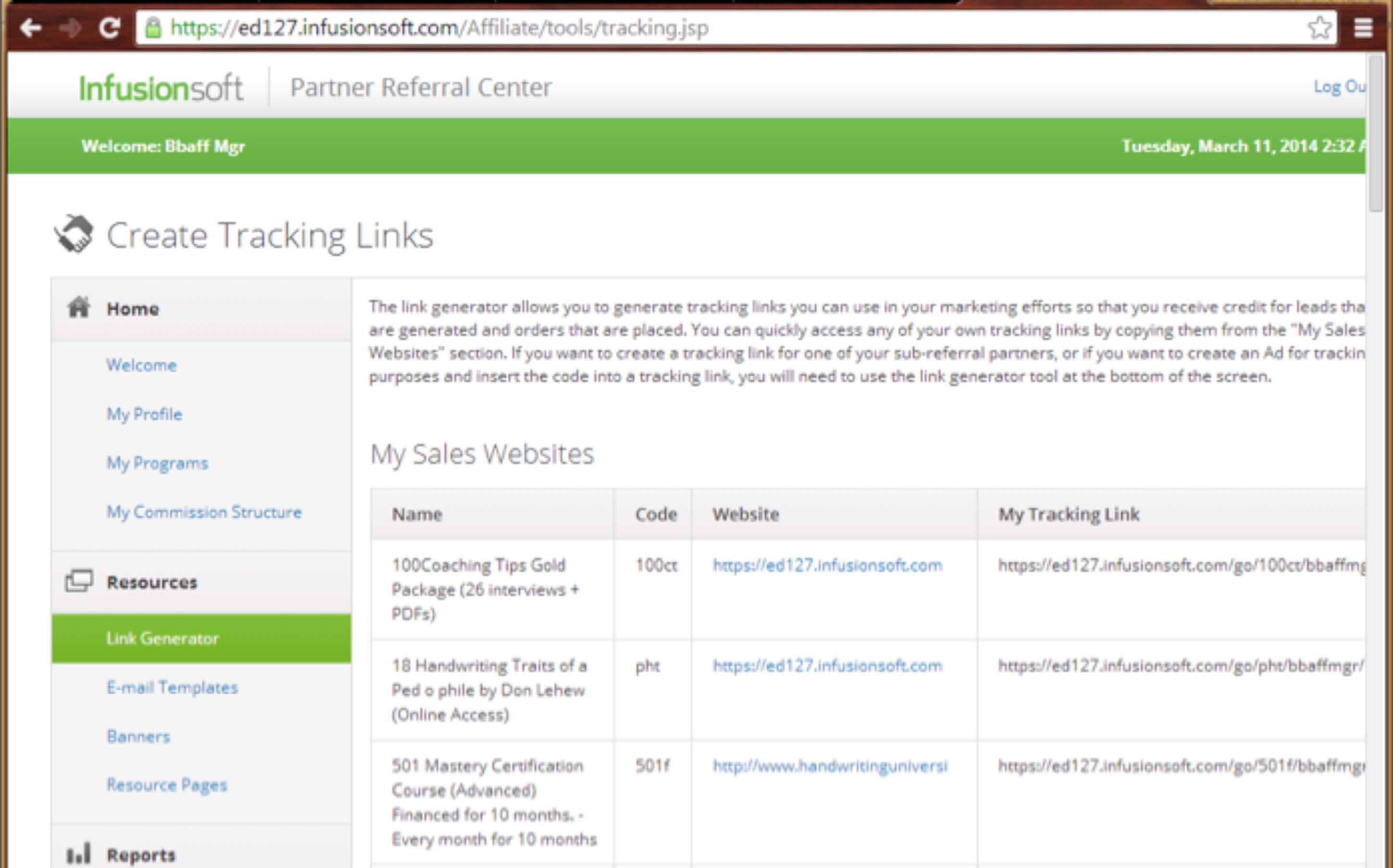 Be sure to use the link in the My Traffic Link column (red arrow). Failing to do this will cause you to not receive credit for any sales.
Here is a tutorial video of how to use the link generator:
You can also create your own webpage using the banner option in the Infusionsoft Referral Partner Center. Please watch the tutorial video on using the banner creator before actually creating banners.
2. The second way to generate sales as an affiliate is to participate in our affiliate campaigns. We run several affiliate campaigns a year.

The advantages of using our affiliate campaigns:
Higher affiliate commission on the product promoted during the campaign.
All the promotional material is done for you. We create a special web page for the product, write the emails for you that you send out to your list, and create any graphics you will need for the campaign.
We give you a schedule of when to send out emails, and even social media posts with graphics.
We send out an email broadcast to our affiliates at least 6 weeks before the campaign. If you are new to our affiliate program, and want to find out about the next campaign, email our affiliate support team.

And, something we now offer in our affiliate program is the ability to promote our free webinars, free special reports, and free courses and still receive credit when your prospect purchases any other products over the next year. Once they are in our system, they are still "your customer" and you will get paid on future purchases.
Infusionsoft has a double tracking method on all contacts. Each person that optins to a program, free or paid, is cookied. But, the IP address is documented in the Infusionsoft system, in case a contact removes the cookie.
This ensures that you receive credit for any sales from contacts that you send to us. Our system is set up to give credit to the first referrer. In other words, if you have a client that is on several email lists, the first affiliate they sign in with receives credit for any sales.
This tracking method lasts up to 3 years in the system.

If you have any questions, please email us affiliatesupport@handwritinguniversity.com

Our affiliate manager is Steve Davis.